Bio Professor and Students Join Global Coalition Studying Parkinson's Disease's Impacts on Women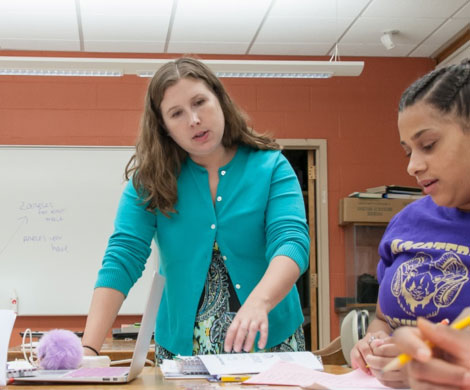 When Kristi LaMonica and her student research assistants began to survey the scientific literature on Young-Onset Parkinson's Disease (YOPD), they found that only around 23 percent of the papers mention women.
Their investigation was prompted by growing anecdotal evidence that shifting hormone levels during menstrual cycles exacerbate YOPD symptoms — and may even render medication ineffective. Yet their early literature review also revealed that only 5 percent of research papers on YOPD mention menstruation; that women have been included in Parkinson's clinical trials only since 1993; and that in recent trials, most participating women are over 60 and not experiencing menstrual cycles.
This dearth of research and hard evidence is something LaMonica and her students are eager to correct.
"A lot of doctors don't know about it and a lot of movement specialists don't understand that this is an actual thing that happens with women," said Professor LaMonica.
LaMonica is a member of the World Parkinson Coalition's YOPD working group and its subgroup investigating the disease's specific impacts on women.
Katherine Florian '22 is one of the students combing through the scientific literature to understand the extent to which women are underrepresented in YOPD studies and to advocate for meaningful representation going forward. "I am driven to help others recognize inequalities in the health care system and contribute directly to providing quality care," said Florian, a Biology major with plans to attend medical school. She said that reading and questioning primary research articles and connecting with the World Parkinson Coalition are helping her apply classroom learning in a way that will make a difference in women's lives.
In June, Professor LaMonica addressed the World Parkinson Coalition's Leadership Forum about women's issues prioritized by the coalition's YOPD women's subgroup and was able to include her team's data. She proposed two action items on behalf of the group: that care teams ask women with menstrual cycles about their cycle's effect on YOPD symptoms, and that women with menstrual cycles bring up the issue if their medical providers do not.
She is also collaborating with the entire YOPD working group on a major international survey for people diagnosed with YOPD and will involve her students in that effort as well. The survey will include specific questions addressing women's health.
"The results of the survey will give us a better understanding and more data that we can present to the community," LaMonica said. "So any care partners or care teams that don't realize that this is an issue, we'll have the data to show this is an issue."