Professors Write History of Sage Nursing Program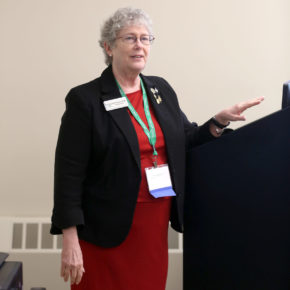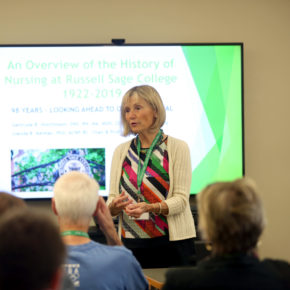 Assistant Professor of Nursing Trudy Hutchinson, DNS, who holds master's degrees in History and Information Science in addition to her Nursing doctorate from Russell Sage College, has a deep appreciation for the women's history, social history and public history contained within the nursing profession. It's what inspired her dissertation about women who championed nursing schools in the upper Hudson Valley in the late 1800s and early 1900s, and it is what led her, last year, to propose a project to collect oral histories from Sage Nursing graduates.
Nursing Chairperson and alumna Glenda Kelman, Ph.D., is committed to recognizing Nursing graduates as her department gets ready to celebrate its 100th anniversary in 2022. She enthusiastically supported the project. 
At Reunion 2019, Hutchinson, Kelman and students Amos Amoak '21, Dorcas Talyowe '20 and Cassidy Taranto '20 interviewed several nursing graduates about their experiences as a student and in their career. The project is ongoing: Hutchinson and Kelman continued to interview graduates over the past academic year and plan to add more (read on to learn how you can participate).   
Now, the interviews will inform a book that Hutchinson and Kelman are co-writing about the history of Russell Sage College's Department of Nursing. 
The book will include chapters describing the origins of the school of nursing, the significance of the Bachelor's of Science in Nursing degree, institutional relationships and leadership. Hutchinson and Kelman also will share themes that have emerged from their interviews — notably what graduates across decades have in common when it comes to why they choose a career in nursing. 
"Often, a nurse had impacted either the graduate we interviewed, caring for them as a child or for their parent," said Hutchinson, "or they had a family member who had been a nurse."
Others were attracted to Russell Sage College's Nursing program's reputation and the promise of a career that helped people and offered intellectual challenges. 
"And opportunities to change and grow but not leave the profession," added Kelman. Graduates spoke about providing direct care, then becoming an administrator, an educator or participating in research. "They found multiple ways to influence people's lives."
The rigor associated with the program also came up often, said Kelman. Nursing is a career choice that demands discipline and professional standards even from students, and the interviewees acknowledged that 5 a.m. clinicals often conflicted with late hours their non-Nursing classmates kept.   
Graduates expressed pride in meeting educational and professional challenges, said Hutchinson. "There were grads who said, 'I wasn't a stellar student but I persevered, I stuck it out. Sage taught me how.' They've gone on to get master's degrees and excel in their nursing career."
Professors Hutchinson and Kelman said they will continue to conduct interviews as they write their book and even after their book is complete.
They seek perspectives from women and men from diverse backgrounds and from any of Sage's Nursing programs — including bachelor's, master's, doctoral and certificate programs, RN-to-BSN programs and Albany campus programs. 
They want to interview both retired and active nurses. Hutchinson specifically mentioned wanting to interview more nurses about their experiences during the COVID-19 crisis.
"Historians look at change over time. That's also what we do as nurses. We look at changes in our patients or our workplaces. What is the change over time, pre-COVID to where we are now, and what will it look like when we come out the other side," she said. "And new graduates who are working in this. Have they felt prepared? What principles did they learn at Sage that they are bringing to bear on the situation?"
Hutchinson and Kelman say proceeds from the sale of their book will be seed money for a fund for student needs. 
"In 100 years of academia and health care, one of the things we are seeing is that nursing is stronger than ever," said Kelman. "Part of our purpose in collecting oral histories and writing this book is to reaffirm nursing opportunities and the profession"
Lend Your Voice to the Nursing Oral History Project
Please email Trudy Hutchinson at [email protected] or Glenda Kelman at [email protected] if you would like to participate in the Nursing Oral History Project. 
Interviews last about 90 minutes and can be a phone call or a web meeting. 
"We ask graduates about their memories of their time here. What were the positives and what were the negatives, did they feel supported, and did they feel when they graduated that they were prepared to meet what the profession had in store for for them," said Hutchinson.
Participants will receive a typed transcript and audio recording of their interview, so it can also be part of their family archive.