Spotlight on the Ferguson Fellowship for Sociology
Prepared for Meaningful Work: Kasie Couser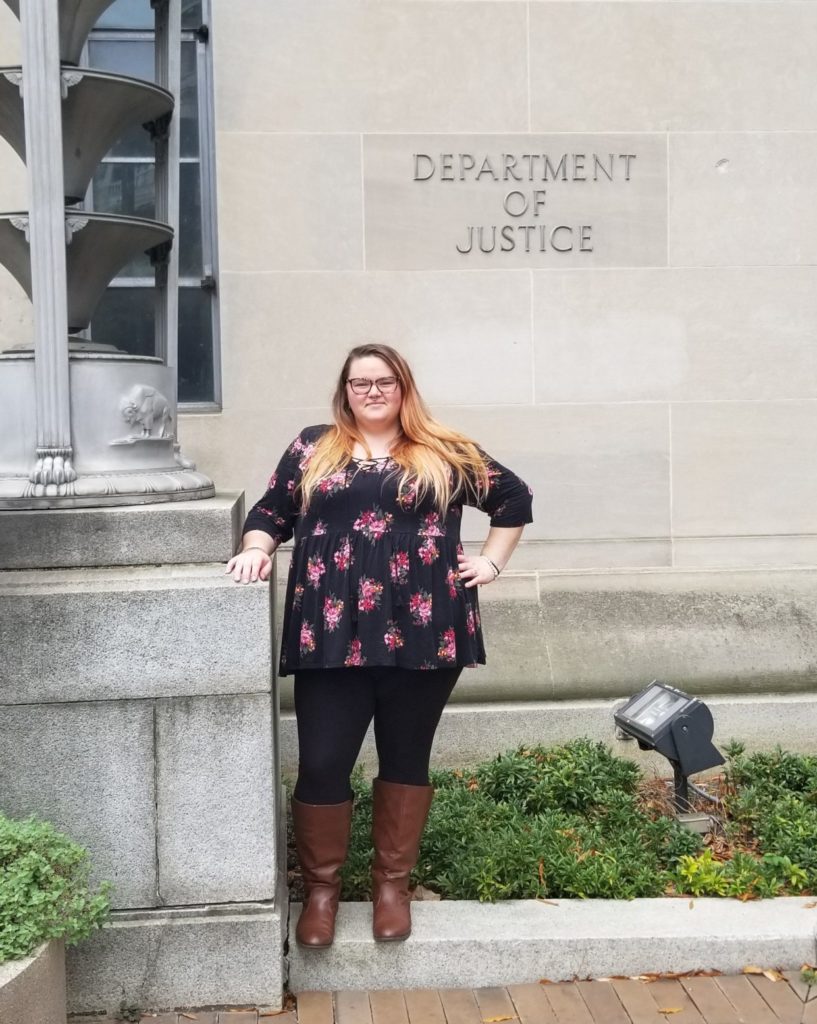 Sociology major and Women's Studies minor Kasie Couser was able to attend the Public Leadership Education Network's Women, Law and Legal Advocacy Seminar in Washington, D.C., in fall 2019, thanks to the Doris Adams Ferguson '53 Memorial Endowed Student Fellowship for Sociology.
PLEN is the only national organization with the sole focus of preparing college women for leadership in the public policy arena. Kasie said the conference's emphasis on career paths that combine legal and social issues appealed to her. She added that she was thrilled to visit Washington, D.C., for the first time and that the conference informed two of her research projects: one comparing the performance of female-led government agencies with male-led agencies and another comparing corruption among countries with lower versus higher numbers of women in government. 
Couser expressed gratitude to the Ferguson Fellowship, and Russell Sage College's Sociology department, especially its director Michelle Napierski-Prancl,Ph.D., who encouraged her to apply for the fellowship.
"Professor Napierski-Prancl has become a huge supporter for me," Couser said. "Being a typical, broke college student, there would have been no way for me to travel on my own. This was an amazing opportunity." 
Couser graduated in December 2019 and joined Equinox, an Albany-based human services agency, as a domestic violence social worker. She is considering Russell Sage College's master's program in Forensic Mental Health, and eventually hopes to apply to the FBI. 
Notes from Past Ferguson Fellows
Inspired by Working for a Cause
"The Ferguson Fellowship allowed me to spend the fall 2012 semester interning at the Feminist Majority Foundation, working for and observing leaders of the feminist movement during President Obama's re-election campaign. Ellie Smeal, the president and co-founder of the Feminist Majority Foundation, demonstrated the inspiring accomplishments one can achieve when passionately working for a cause as well as that effective leadership has more to do with listening and understanding than necessarily having all of the answers. I reflect nearly each day on my time as a Ferguson Fellow, remembering that the best leaders are passionate and seek to understand the problem before attempting to fix it." –Michelle R. Hutchins '13, J.D.,  attorney at The Legal Project, representing low-income survivors of domestic violence in matrimonial and family law proceedings 
More Open-Minded and Confident
"Without the Ferguson Fellowship, I wouldn't have had the opportunity to travel to Guatemala on my own. While I was there, I learned so much about the language and fell in love with the people, food and culture. More than that, I learned what poverty outside of the U.S. looks like and experienced what it feels like to look different than everyone else, as I was the only 'peliroja'(redhead) for miles. I believe that this experience helped me to become more open-minded and confident in my ability to work with the diverse staff on my team now and conquer the challenging issues that arise each day." –Kate Maybury '12, residential program director at Access CNY in Syracuse, supporting people with developmental disabilities
Life-Changing Experience
During my junior year at RSC, the Ferguson Fellowship was brought to my attention. I applied, not being sure if I would get it. When I was chosen I couldn't have been happier. I thought to myself, 'I can finally study abroad.' After searching for study-abroad programs, Nairobi, Kenya was the destination for me. Unfortunately, this dream was cut short when my trip was canceled by the organizers due to safety concerns. Back to square one with my search! That's when I found a volunteer program at Maximo Nivel located in Costa Rica. At first I was afraid of traveling alone to a foreign country where I didn't speak the primary language. Once I got there, my fear disappeared. I was placed with a host family, which included a mom, a dad, a son and a daughter and a few women who were also volunteering. Like most people there, the family only spoke Spanish. Therefore, communicating was somewhat difficult, but this challenged me to learn the language. I learned directional terms, food, different modes of transportation, greetings and more. Other than exploring and meeting new people, the highlight of my trip was volunteering at a daycare for single mothers with low income. Being able to care for these children led me to the decision to become a child-and-family social worker. Since graduating from grad school, I have worked jobs as a preventive worker, a counselor and currently I work as a behavioral health coordinator for women with children who are survivors of domestic violence. I will be forever grateful for this life-changing experience which helped shape my future. I would like to end by saying Pura Vida! — a saying that I learned in Costa Rica. It translates to 'pure life.' However, Costa Ricans use it in many ways to say  hello, goodbye, simple life, everything's great, everything's cool, etc. As they would say, it's more than just a saying, it's a way of life."  –Tia Mitchell '15, behavioral health coordinator, supporting survivors of domestic violence