The Rev Collaborates with International Publisher Founded by and for Student Creatives
"When I think of creativity, I think of it as a tool. One that can be used to bring about social change. It can shine a light on the stories that are not being told."
-Amina Yussuf, from CreativityUnleashed
Roots of a Partnership
In August of 2011, the city of London was locked down. Fires erupted on the streets. The riot had started in Tottenham, following an incident of police brutality against an unarmed, young black man named Mark Duggan. What began as a peaceful protest by the young man's family and friends eventually turned into a full-scale riot in London and spread to other cities in England. Images of youth in hoods watching buses and shops on fire filtered through the media, creating a distinct narrative of who was ultimately responsible for the violence–one that would be equally supported by high-level government officials.
Almost half a year later, Angie Smith was allocated to a London Post-16 college in Tottenham, where the riots had started. Far from the violent young people she had been told to fear, the students were socially and politically conscious and frustrated (and rightly so). They had a poignant awareness of the way some in their city viewed them, although they had not participated in any violence. This fueled their desire to improve their future outcomes by contributing to a dialogue about them that had started without them. They sought civic participation and community, all elements they believed should be facilitated by the education system but that weren't in any meaningful way. They wanted to function productively in a system that marginalized them both culturally and socially–by actively resisting it.
During this same time, creative writing had been removed from the national curriculum. One by one, other creative arts subjects were removed from the college's prospectus: first music, then drama, and then several of the fine art classes, due to reduced funding—an issue we've seen in the U.S. There was an observed sense of indignation from the young people themselves who were beginning to recognize the deficit model of their education, especially in light of the way that the media seemed to view young people from Tottenham. They were beginning to see that not only were young people's voices rarely heard, but their needs were decided for them.
As a writer and teacher herself, Angie decided a little creative writing group would be ideal, and was excited by the prospect of showing some young people just how valuable, fun and empowering a command of the written language could be. In this weekly, after-class creative writing group, they found the space to resist. What started out as a weekly writing circle would grow into a creative arts publication and work-experience project driven by the political and social consciousness of a group of teenagers taking a more active role in their futures.
To this end, Haringey Unchained was born – a creative arts platform for the students with both print and digital elements. Even the name reflects the impetus of the project: emancipation through their own volition. If the curriculum wasn't going to enable them to develop their creative, political voices and meaningful employability skills, then they would find ways to do this without it. When they expanded the project to integrate creative submissions from staff and students across the college, they actualized their desire to engage with and generate a creative community and dialogue. 
CreativityUnleashed is the new face of that legacy project that began in 2014 in Tottenham, London: Haringey Unchained (HU). What started out as a small collective of students aiming to showcase the creative talent of Haringey Sixth Form College in Tottenham, London has now grown to become a not-for-profit working with young people everywhere. They promote social change, tolerance and diversity through community-driven art experiences.
CreativityUnleashed also provides links for young people internationally to develop their skill sets outside of the classroom–through internships, professional creative arts workshops, editorial experience through the production of a print magazine and more. They are growing in size and outreach and are always looking for new ways to link young people to the culture sectors.
Fast Forward to 2020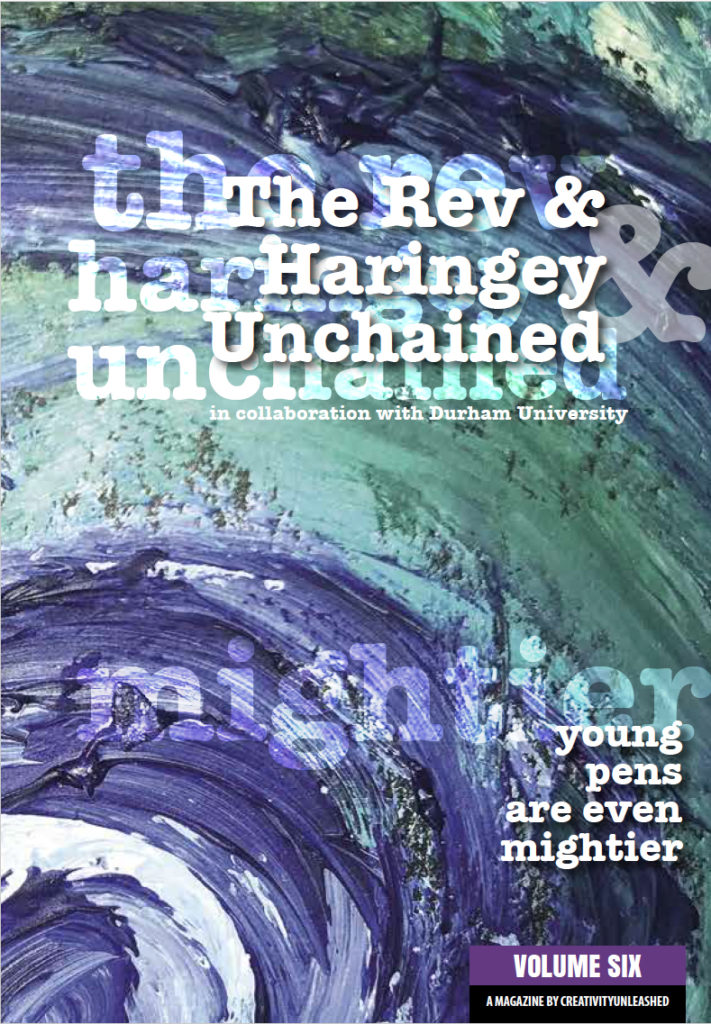 Angie Smith is currently a Russell Sage College adjunct professor. She continues to advise CreativityUnleashed, the consulting effort that grew out of Haringey Unchained. 
Russell Sage College's student-run literary journal The Rev (formerly The Russell Sage Review) formed a partnership with CreativityUnleashed in 2020 to produce a publication with Haringey Unchained, the magazine founded by students at Haringey Sixth Form College (H6) in London.
CreativityUnleashed, made up of H6 students and alumni, partners with secondary schools and universities to showcase creative talent among students and to advocate for arts in education.
The Rev/CreativityUnleashed partnership includes online creativity workshops — presented by students and arts professionals — for the H6 and Sage communities. Spoken word poet Joseph Unadike, H6 alumna Lina Charki, Atlanta-based professional photographer Patrick Heagney, and film writer and director TJ Volgare have given workshops.
Student editorial boards brainstorm and share resources as they solicit submissions from workshop participants and other Sage and H6 students, faculty and staff; develop creative concepts; curate content; and manage vendors for online and print editions of their publication. 
"This project develops skill sets for students preparing for the world of work," said Angie Smith, faculty advisor to The Rev. "In addition to doing their own writing, students will gain experience leading workshops and contributing to a creative team to produce and promote the magazine itself." She said the programming will complement Sage's literature and writing curriculums while offering a creative outlet for all majors.
It has been an incredible experience linking the London students from CreativityUnleashed and Haringey Sixth Form College with the team behind The Rev, Russell Sage's Troy campus creative arts magazine. According to Angie Smith, last year's collaboration integrated a wide range of creative minds from across the Atlantic, and the resultant community they created together was both inspiring and healing during a global pandemic and lockdown. This year, The Rev team is looking forward to seeing what the relationship will bring as we work on the next issue of the magazine. This new volume will be launched in the spring 2022. They hope to see submissions from the Sage Community in future issues of the magazine.
The Russell Sage students on the team this year are: Daniela Withington, Maverick Douglas, Ethan Alcee, Hunter Chaney and Jacqueline Hilliard. Emily Boehm, who recently graduated from Sage and whoworked on the magazine last year is now an editor working with CreativityUnleashed – and is serving as the copyeditor for The Rev this year. The project is also supported by Sage staff Ashley Busby and Laurel Petersen.
The 2020 publication was incredibly successful, a showcase of the creative minds at Russell Sage and Haringey Sixth Form College. To enjoy the publication yourself, click here. The new edition of The Rev/CreativityUnleashed is set to launch on April 27, 2022.
Russell Sage faculty are enthusiastic about this unique opportunity for their students. "There is a tremendous opportunity here for students to collaborate with other writers and professionals across institutions and internationally. Exposing RSC students to a broader creative network not only enhances their academic experiences at Sage, but also provides them with a supportive environment that fosters individual expression and voice across multiple platforms," shared Tonya Moutray, Professor of English and Honors program director, Russell Sage College.
The Rev/CreativityUnleashed partnership is supported by the Russell Sage College libraries and Carol Ann Donahue Poetry Fund.
For more information, and to submit your creative work for consideration, contact Angie Smith at [email protected].
To learn more about CreativityUnLeashed, visit. www.creativity-unleashed.org