Service-Minded Russell Sage College Students Participate in 2021 AmeriCorps VISTA Summer Program
Five Russell Sage College students were part of the 2021 AmeriCorps VISTA summer program, which places service-minded individuals in summer positions that address community needs.
"I'm really impressed with what the AmeriCorps VISTA summer associates accomplished and how collaborative their experience was," said Assistant Professor and Director of Service Learning and Community Engagement Ali Schaeffing, Ph.D. "These summer projects fit into larger community efforts and it is exciting to think about how Sage can continue these partnerships this academic year."
---
Nana Ama Boateng, a Counseling and Community Psychology master's degree candidate, was a summer associate at the Cohoes Connect Center. She helped to run science, technology, engineering, math and arts programs for kids, and collaborated on research measuring their engagement in informal STEM activities.
Her research has the potential to be published and will help the Connect Center design high-quality "out of the classroom" educational programs.
In one of the most popular activities at the Center, kids learned how to take apart, rebuild and code a computer that they can keep.
"We're assessing behavior, cognitive engagement and emotional engagement," Nana told us. "How intrigued are these kids as they are putting the computer together, learning about the software? Are they asking questions? Are they able to understand what we're saying, and are they able to explain it back to us?"
Nana Ama had been leaning toward a career as a child psychologist. She applied for the AmeriCorps position at the Connect Center because she felt it would be a great avenue for her to really know if she wanted to work with kids.
According to Nana Ama, there are many highlights each day, from learning how to build a computer alongside the kids to lending an ear to kids having a tough day. "At the end of each week, when kids come up to me and tell me that they had a blast, I love that so much."
---
Ester Hnin '23, an Interior + Spatial Design major, was a summer associate at the Refugee Welcome Center in Albany.
She was involved in programming for 7–12 year-olds, programming for college-bound young adults, and interviewing community members to get their input on neighborhood needs.
Ester said Sage's Public Speaking and Presentations class helped her feel confident when she led a presentation on the Free Application for Federal Student Aid (FAFSA) for young adults at the center. The class also helped her feel prepared for her conversations with residents, about their hopes and concerns for their neighborhood.
She enjoyed more informal activities, too, like joining younger kids on a field trip to a nearby nature preserve.
"After so much social distancing, interacting in person was the real highlight," Ester continued.
"I got to meet new people," she said. "We had a cookout. Neighbors came and brought their traditional food. Everybody was gathering."
Ester said she was attracted to the community service aspect of the AmeriCorps VISTA summer program, but she also gained communication and presentation skills and teamwork experience — all relevant to her future, designing residential spaces.
---
Kathleen Nielsen '22, a Health Sciences major was a summer associate at Albany Victory Gardens, which provides urban farming education, land rehabilitation and fresh produce for Albany residents.
Kathleen's supervisor in Sage's admissions office, where she is a student-ambassador, notified her personally about the AmeriCorps opportunity.
"After living and working in Albany for the past two years, I wanted to be able to help make a difference for those who are systematically struggling in our community," Kathleen said.
She described working with fellow AmeriCorps volunteers and neighborhood residents "on the front lines" of what began as a lot filled with weeds. "In the end, there is a fence, pollinator and air purifier plants," she said. "The major point of this project was to give the neighborhood a space where the community can come together to see greenery."
Kathleen also helped organize an exhibit called "Urban Farmers: Community Voice," featuring photography and first-person narratives from community members who visit the garden.
"I liked having the opportunity to engage with local community members," she said. "It was refreshing to learn about these members' truth and what they are experiencing in the neighborhood."
In addition to AmeriCorps, Kathleen has been involved in service projects with her hometown Lions Club. She said her service mindset — and career goals — have been inspired by her experience living with cerebral palsy.
"After having an abundance of medical professionals and surgeries, I wanted to give back care," she said. "I foresee my career to be working in the medical field and assisting children and helping them cope with trauma and/or disability."
---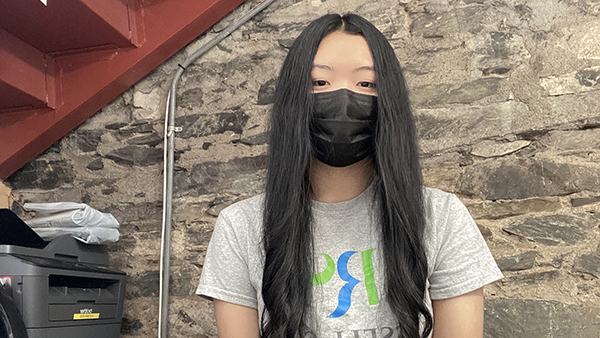 Su Meh '23, a Business Administration major, was a summer associate at Trinity Alliance of the Capital Region, a social services agency. She worked in the food pantry and as a receptionist for the entire organization.
Su was drawn to AmeriCorps in order to contribute to projects serving refugees and addressing social issues — like food insecurity — that have been exacerbated by the COVID-19 pandemic.
"As someone who grew up in the refugee camp and experienced adjusting into this new environment, I felt my insights and perspectives could be of value," she said, adding, "Due to the pandemic, many are experiencing hardships and this was an opportunity for me to get involved."
Her public-facing roles at Trinity Alliance gave her an opportunity to apply lessons from her management classes, especially her Business Communications class.
"I was also able to gain new perspectives, which I think can be an advantage in my future endeavors," she said. "I'm leaning towards finance, but I'm still deciding."
---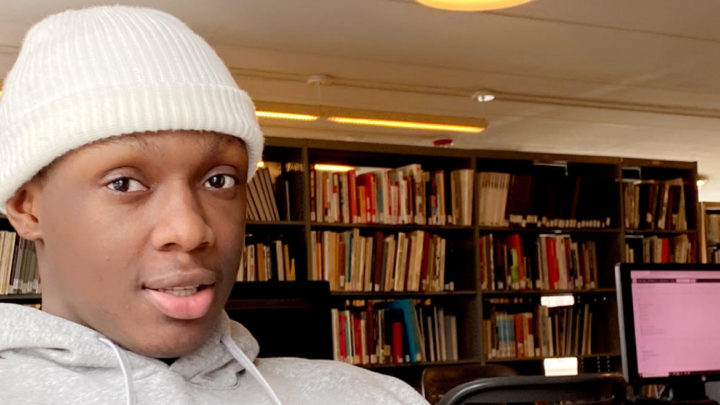 Adebanjo Samson '22, a Psychology major, was a summer associate at AVillage, an organization working to improve quality of life for residents of Albany's South End. One of AVillage's initiatives is the South End Night Market, a weekly street festival and vendor fair featuring products from local Black-owned businesses.
Adebanjo was a member of the marketing team for the South End Night Market. "I am responsible for foot trafficking," he said. "I try to find ways to attract customers to the market through advertising and social media."
His responsibilities included creating a promotional budget and spreading the word about the market and its special events through a variety of channels, from chalkboard signs to Instagram.
Shortly after joining the marketing team, Adebanjo's videos for the market's Instagram page helped gain more than 30 new followers.
"The SouthEnd Night Market is a way of helping the community because it brings them together and helps entrepreneurs and farmers markets to make money," said Adebanjo, who wants to attend medical school and become a psychiatrist. "I couldn't think of a better way of spending my summer."