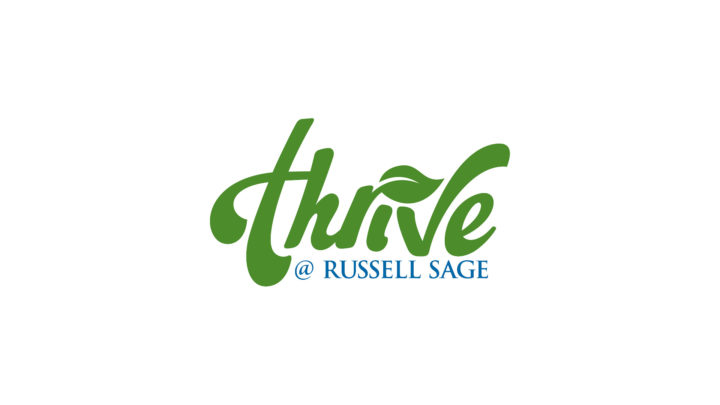 As Sage encourages our students to discover and live their values at Russell Sage, a new initiative is a focus on wellness and well-being. As with all of Sage's values, it's not enough to just know what they are—the community needs to learn how to live them.
Building on Sage's reputation in the health sciences, Thrive at Russell Sage, our newest initiative, goes beyond the classroom to build a culture of wellness for the entire Sage community. Thrive encompasses programs designed with student, faculty and staff wellness in mind. Programs designed to promote wellness are threaded through the curriculum, encouraged in staff goals, and the subject of lectures and events for the Sage community and the broader public.
Sage is aware of the importance of the body, mind, spirit connection. With that in mind, Thrive @ Russell Sage looks for ways to make wellness a priority in a holistic way for the entire Sage community. Most importantly, to help students, staff, and alumni pursue those practices that nurture themselves and help them live a balanced and healthy life.
Thrive is not a single thing. It is a kaleidoscope of wellness awareness and practices. It provides spaces and opportunities to learn about and practice healthy lifestyles. Here a few of the ways Thrive @ Russell Sage is helping the whole community experience wellness this year:
Mass Vaccination: A Global Call to Action – a live-streamed event with with Drs. Arthur Caplan (Bioethicist at NYU), Guthrie Birkhead (Epidemiologist) and Alan Sanders (Medical Director and Infectious Disease) (March 11, 2021).
Dr. Ellen Cole and Dr. Kathleen Kelly mentored four graduate students in the Master's in Applied Positive Psychology Program at the University of Pennsylvania.
Fresh Check Day (Opening day of classes)–a focus on mental health and suicide prevention education (August 2021) conducted on both campuses, Troy and Albany.
Positive Psychology and Agency with Dr. Martin Seligman: lecture and discussion on campus for student, faculty and staff (October 2021) Dr. Seligman is ranked #1 on the list of ten most influential psychologists.
Wellness Wednesdays: partnering with the RSC Alumni Association, this weekly series has provided information and prompted conversations about heart health, diabetes, breast cancer, mindful meditation, healthy eating, yoga and more. These programs are offered via Zoom so that a large audience can participate.
Get Conscious about Concussions: The Diversity, Equity and Inclusion Critical Conversation Committee partnered with Thrive to present a timely discussion on the implications of concussions (November 2021).
Opening of the Fitness Center on the Albany campus (October 2021), expanding exercise facilities to accommodate more of the community. This achievement is aligned with the Thrive goal of Individual Wellness.
A Book Club on wellness issues for faculty and staff has been started and is ongoing.
Other events and programs have included group walks at lunch time, participation in the Go-Red Campaign, healthy food offerings in the dining areas, and more.
This year, all Sage employees were encouraged to consider how Thrive could be incorporated into their workplace goals.
As a result of the Wellness Wednesday programs, Russell Sage College has received special recognition.
The Workplace Health Achievement Index of the American Heart Association (AHA) is a comprehensive organizational self-assessment that measures both the health of a workplace and the health of a workforce. Russell Sage College has received Bronze status from the AHA in 2021. The American Heart Association has defined best practices for employers to use to build a culture of health for their employees in the workplace. The American Heart Association's Workplace Health Achievement Index measures the extent to which the company has implemented those workplace health best practices.
In August, Russell Sage College was also recognized by the Albany Business Review as one of 24 "Healthiest Employers" for improving employee wellness in a new way after the pandemic hit.
Thrive @ Russell Sage is encouraging all of us to strive to be our best selves, while providing us the tools and the information to accomplish our goals. We are excited about this new initiative at Sage and how it intersects with so many other areas of our academic programming and our community life. Becoming a healthier community aligns with our college's values and mission.
Stay connected at sage.edu to learn about Thrive programs that you can be a part of in your wellness journey.